The European Commission adopts its new Open Source Software Strategy 2020-2023
Version française COMMUNICATION À LA COMMISSION STRATÉGIE EN MATIÈRE DE LOGICIELS LIBRES 2020 – 2023 - L'esprit ouvert
Also on page 2, was translated this way…
Logiciels libres et ouverts
Le logiciel libre (ou logiciel à code source ouvert) combine le droit d'auteur à une licence pour
assurer aux utilisateurs la liberté d'exécuter le logiciel, de l'étudier, de le modifier et de
partager le code et les modifications avec autrui. Il favorise la collaboration, l'innovation et l'agilité.
English version COMMUNICATION TO THE COMMISSION OPEN SOURCE SOFTWARE STRATEGY 2020 – 2023 Think Open
On page 2 we can read…
Free and open source software
Open source software (or free software) combines copyright and
a licence to grant users the freedom to run the software, to study and modify it, and share the
code and modifications with others. It facilitates collaboration, innovation, and agility.
It's weird because in french it's called « libre » but in the english version is closer to « open source » and in the french, the word « libre » is far more present then the word « free ». And, sadly, the word « libre » does not exist in the english version.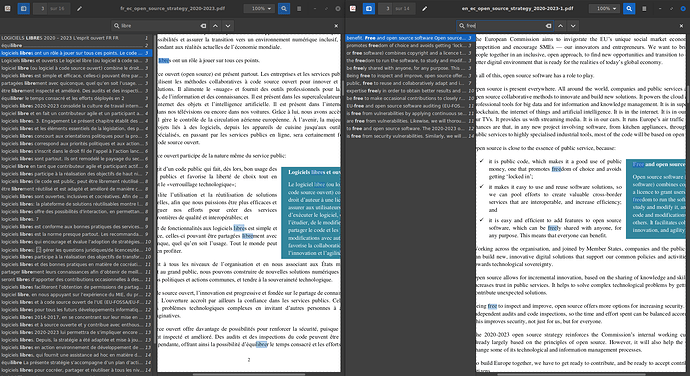 Chapitre 1, p. 3 / Chapter 1, p. 3
fr: Cette stratégie rapproche la Commission de la communauté du logiciel libre et en fait un contributeur agile et un participant actif.
en: The strategy brings the Commission closer to the open source community, and makes us an agile contributor and an active participant.
Chapitre 2, p. 3 / Chapter 2, p. 3
fr: Il témoigne également de l'engagement à soutenir activement les communautés de concepteurs de logiciels libres.
en: It also indicates a commitment actively to support open source developer communities.
Chapitre 3, p.3 / Chapter 3, p. 3
fr: Le présent chapitre établit des liens entre la stratégie en matière de logiciels libres et les éléments essentiels de la législation, des politiques et des plans de l'UE.
en: This chapter links the open source strategy to key EU legislation, policies and plans.
Chapitre 3.1, p. 4 / Chapter 3.1, p. 3
fr: La stratégie en matière de logiciels libres concourt aux orientations politiques pour la prochaine Commission (2019-2024) 2 présentées par la présidente von der Leyen:
en: The open source strategy supports President von der Leyen's Political guidelines for the next Commission (2019-2024) 2 :
Chapitre 3.3, p. 4 / Chapter 3.3, p. 4
fr: La présente stratégie en matière de logiciels libres correspond aux priorités politiques et aux actions de la stratégie numérique.
en: This open source strategy matches the political priorities and activities of the digital strategy.
An so on…
Interpretation ?
In french, when I talk about libre software, I mean « free and open source software covered by a General Public Licence ». It is a non permissive licence which grants use rights but forbids proprietization.
I suppose that the EU does not share the same interpretation, but according to what it's written in the document, some software is made with the cooperation of EU, under AGPL-3.0 License like MISP, TheHive. Maybe some more are available somewhere,or will be available soon.
Where is the main EU git (or other CVS) repo ?