Introduction
Resources
Feminist Technology Playground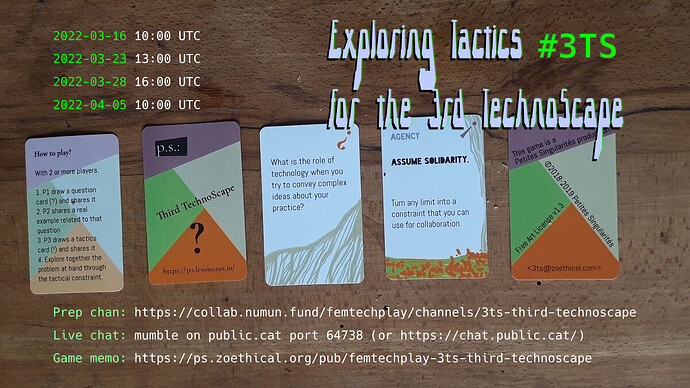 Game Preparation
Each collective must have a copy of the 3TS card game to facilitate remote game sessions. Because we encourage endogenous praxis, and we prefer avoiding global logistics when possible, we make the source files available for your collective to print locally. But if you prefer, we can have some games shipped to you. Make us know early so you can get the games before the first session!
We propose that participant collectives find a print shop nearby and print their own card game locally, using the PDF files mentioned above as Printable 3TS Card Game ZIP. If you would like to translate the game in your language, you can use the 3TS Card Game SVG source files and make your changes, then print the required cards. Warning: either way, this is something you want to start now because it will take longer than you expect.

→ The preparation channel is a dedicated Mattermost channel at #3ts-third-technoscape.
Game Sessions
There will be 4 game sessions (all times are given in UTC—please adjust to your timezone):
Wednesday March 16 at 10:00 UTC
Wednesday March 23 at 13:00 UTC
Monday March 28 at 16:00 UTC
Tuesday April 5 at 10:00 UTC
Live games will be played and recorded using this forum and a complementary voice chat.
Voice Chat
Please install Mumble client whenever possible as it will provide the best experience for all. If you're not used to it and want to adjust your settings before the sessions you're welcome to connect to the public.cat server that will be used during the game sessions, on the default port. If you cannot install Mumble on your machine, you may use the web-based interface available at https://chat.public.cat/, however be warned that it may impair your experience.
If you need help setting things up, please reply to this topic.
Game Memo
During the game sessions, the card draws will be recorded and the discussions noted for future reference.